"It's like the Christmas tree of goodies for voter suppression," Democratic state Sen. Jen Jordan said on the Senate floor before the GOP-dominated legislature approved the "Election Integrity Act of 2021," an omnibus bill containing the voter suppression bills HB531 and SB241. Georgia-based companies like Coca Cola, Delta Airlines, Home Depot, Aflac, UPS and Southern Company both supported the legislators behind this legislation and declined to speak out against them.
(guardian) "Georgia activists are calling for a statewide boycott of Coca-Cola… The call for the boycott, first reported by the Atlanta Journal Constitution, is coming from leaders of the sixth district of the AME church, which includes more than 500 Black churches in Georgia. Bishop Reginald Thomas Jackson, the presiding prelate, said that there had been a "deafening silence" around voting rights from Coca-Cola and other companies that had put out statements last year supporting the Black Lives Matter movement.
"Our position is they've not lived up to their own words. By your silence you're actually being complicit. So we're going to say to them, if you want our money, then you ought to have our back," he said in an interview. He added that he expected other civil rights groups to join in the boycott calls soon."
So, here we are…We all have an action and personal choices to make.
Make a call/send an email. Customize if you can.
Minimal script: Hi, I am an American citizen (from [state/city]) who cares about our democracy, and I was profoundly disappointed in your corporate support of recently passed voter-suppression legislation in Georgia. They even made handing voters bottled water, one of your products, a crime. Until your company speaks out in a meaningful way against this anti-democratic type of legislation, which is cropping up all over the country, I can no longer in good conscience support your company by purchasing your products and I will reach out on my social network to ask others to refrain from doing so as well.
Coca Cola
James Robert B. Quincey, Chairman and CEO of The Coca-Cola Company
jquincey@coca-cola.com
1 Coca-Cola Plaza Atlanta, GA 30313
404-676-2121
Stop buying these products:
Here's the company brand list.
Coca Cola
Sprite
Fanta
Dasani
Glacieau Smarwater
Minute Maid
Innocent
Simply juices and drinks
Georgia Coffee
Costa Coffee
Fuze Tea
Honest Tea
Fairlife
Powerade
Ciel
Schweppes
Glaceau vitaminwater
Gold Peak Tea
Appletiser
Topo Chico
Aquarius
AdeS
Fresca
I LOHAS
Ayataka
Barq's
Dogadan
Peace Tea
Feel free to adjust the script to chat with the CEO's of the following companies who've also supported voter suppression in Georgia.
(Contact information below the tweet.)
Good morning to everyone except corporations who donated to co-sponsors of voter suppression bills. #StandWithGA ✊🏾
@ATT
@cvspharmacy
@Aetna
@Delta
@comcast
@SouthernCompany
@CocaCola
@UPS
@HomeDepot
@Publix
@Verizon
@Walmart
@Allstate
@Walgreens
@aflac
@lyft
@SunTrust
@TMobile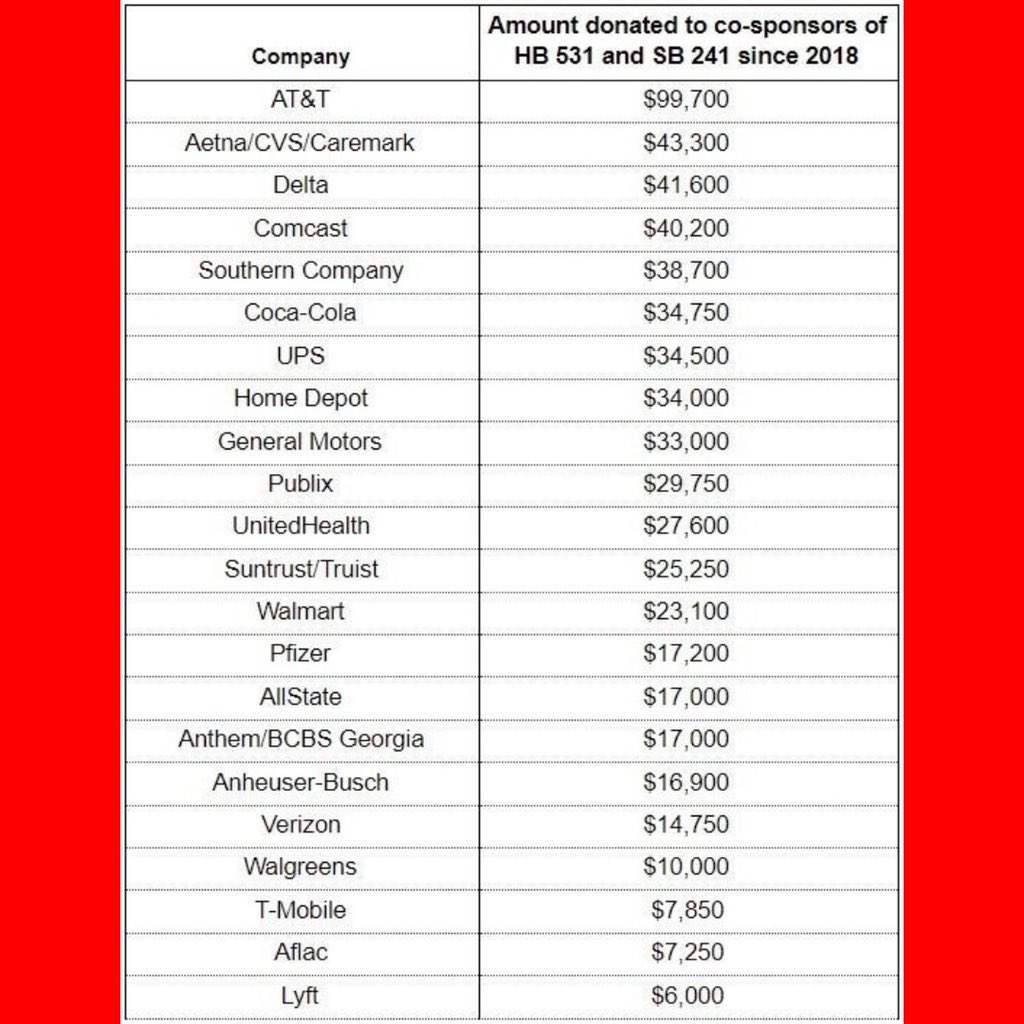 Originally tweeted by Black Voters Matter (@BlackVotersMtr) on March 28, 2021.
AFLAC
Contributed $7,250 to co-sponsors of HB 531 & SB 241: "Insurance company Aflac, which is based in Columbus, GA, has donated $7,250 to eight co-sponsors of the House and Senate bills since 2018. In September, Aflac published a video encouraging employees to make a plan to vote. Following the January 6 riots, the company announced that it was pausing all political donations to "reassess our approach." The company did not respond to Popular Information's request for comment regarding the Georgia legislation."
Executives:
Main: (706) 323-3431, Customer Service: (800) 992-3522
Aflac Worldwide Headquarters, 1932 Wynnton Road, Columbus, Georgia 31999
AT&T
Contributed $99,700 to co-sponsors of HB 531 & SB 241: "One of the largest contributors to the sponsors of House Bill 315 and Senate Bill 241 is AT&T. According to state election campaign filings, AT&T has donated at least $99,700 to the group since 2018. AT&T is one of the companies to halt donations to the 147 lawmakers who opposed Biden's certification. The company did not respond to a request for comment."
AT&T said its PAC board decided to suspend contributions to members that voted against certifying the 2020 election results. We appreciate that's all after the damage has been done. We expect you to do more.
Executives:
(210) 821-4105
208 S. Akard Street, Dallas, TX 75202
COCA-COLA
Contributed $34,750 to co-sponsors of HB 531 & SB 241: Despite a pro-voting ad campaign that specifically encouraged Black voters, Coca-Cola has supported the cosponsor of SB 241: Georgia Senator Brandon Beach, who also signed onto a brief submitted to the Supreme Court that argued that all votes in Georgia, Pennsylvania, Michigan, and Wisconsin should be thrown out, as well as lawsuit over certification of presidential election results.
(Popular.info) In total, Coca-Cola has donated to 29 co-sponsors of the two bills to restrict voting. In response to an inquiry from Popular Information, Coca-Cola said that it had paused all political giving after the January 6 attack on the Capitol and "that pause continues." The company did not rule out supporting Beach or other co-sponsors of legislation to restrict voting in Georgia in the future. Popular Information also asked Coca-Cola if it supported House Bill 531 and Senate Bill 241. In a statement, the company declined to take a position for or against the legislation, instead saying it supports a "balanced approach."
What, are they balancing their history of corporate racism with new racial equity patter? Coca-Cola now specifically states "Racial Equity at our Company and in our Communities – There is no place in our world for racism. We believe we have a duty to strive for greater justice and equity within our own company and throughout society. After extensive reflection, we recognize there is more we must do. The Coca-Cola Company has developed plans to help create a world that we know should already exist. It's a beginning, and we won't do it alone, but Together We Must build a better future."
Explain that "balanced approach" again to us, please, when describing legislators and their bill that specifically target the Black community.
Executives:
Coca Cola Consumer Care = 1 800 520-2653
The Coca-Cola Company, One Coca Cola Plaza NW, Atlanta, GA 30301
COMCAST
"Comcast is suspending contributions to lawmakers who voted against the election results, saying that the violence at the U.S. Capitol last week was "appalling." Well, do more, Comcast. Stop funding Jim Crow legislators.
Contributed $40,200 to co-sponsors of HB 531 & SB 241:
Executives:
Main: (215) 286-1700, Toll Free: (800) 266-2278
1701 JFK Blvd, Comcast Center, Philadelphia, PA 19103
CVS HEALTH
Contributed $43,300 to co-sponsors of HB 531 & SB 241:
Executives:
Main: (401) 765-1500, Toll Free: (800) 746-7287
Customer Support Center, One CVS Drive, Woonsocket, RI 02895
DELTA
Contributed $41,600 to co-sponsors of HB 531 & SB 241:
Like Coca-Cola, Delta participated in voting rights campaigns, including free voter registration on its flights, encouraging employees to volunteer as poll workers, and teamed up with other companies to promote early, in-person voting. "Georgia-based Delta Air Lines has donated at least $41,600 to the 22 sponsors of the bills since 2018, including $2,500 to Georgia Senator Matt Brass (R). In November 2020, Senator Brass issued a statement asserting "crooks" had "compromised" the 2020 election. Brass also falsely claimed that Georgia's "laws were being violated in multiple counties" to change the outcome of the election. "10,000 dead people voted," Brass insisted, without evidence. Delta has also donated $3,800 to Georgia Senator Brandon Beach."
Executives:
(404) 715-2600
Delta Air Lines Inc., P.O. Box 20706, Atlanta, GA 30320
HOME DEPOT
Contributed $34,000 to co-sponsors of HB 531 & SB 241 Home Depot touted elections that were "accessible, fair and secure."
Executives:
Main: (800) 466-3337 Customer Service: (800) 466-3337
2455 Paces Ferry Road, Atlanta, GA 30339-1834
SOUTHERN COMPANY
Contributed $38,700 to co-sponsors of HB 531 & SB 241:"Southern Company, a large energy company based in Georgia, has donated $38,700 to 17 Georgia state legislators who co-sponsored the bills restricting voting. This includes $2,000 to Senator Burt Jones who repeatedly pushed unfounded claims of election fraud. Jones, who supported the Texas lawsuit to throw out election results in Georgia and three other states, also co-wrote a letter to former Vice President Mike Pence asking him to delay the certification of Biden for 12 days "to allow for further investigation of fraud, irregularities, and misconduct" in Georgia's election."
(Information from ceoemail.com)
Executives:

Kimberly Scheibe Greene – COO

Phone Number: (404) 506-5000
Southern Company, 30 Ivan Allen Jr Blvd NW, Atlanta, GA 30308
UPS
Contributed $34,500 to co-sponsors of HB 531 & SB 241: "UPS, another Georgia-based company, has also contributed significantly to the sponsors of House Bill 531 and Senate Bill 241. Since 2018, the company has donated $34,500 to 26 co-sponsors of the two bills. This includes $1,000 to Senator Beach and $1,000 to Senator Jones. UPS, which has indefinitely "suspended all PAC contributions" following the Capitol insurrection, did not respond to a request for comment."
Executives:
404-828-6000
UPS World Headquarters, 55 Glenlake Parkway NE, Atlanta, GA 30328
WALMART
Contributed $7,250 to co-sponsors of HB 531 & SB 241: The company is "indefinitely suspending contributions to those members of Congress who voted against the lawful certification of state electoral college votes," according to a statement. That's great. We expect you to do more.
Executives:
Main: (479) 273-4000, Toll Free: (800) 925-6278
702 SW 8th St, Bentonville, AR 72716
(LATimes) House passes landmark election bill as parties war over voting rights
(Popular.info) The Georgia legislators pushing voter suppression bills are backed by millions in corporate cash
This is going even further…