For those who were playing "SOTU" BINGO with shots, and therefore didn't make it through the whole 90 minutes (you know who I'm talking to), we're bringing you the highlights, the low bits, the analysis, the humor and the horror of it.
However, before we start, remember that these events are happening TODAY, Wednesday.
Tune in Wednesday, January 31 at 10PM ET

 for the BET News special "Angela Rye's State of the Union.". The special will feature Rep. Maxine Waters (D-CA) delivering an exclusive rebuttal to the president's state of the union address.
State of the Union…of Concerned Scientists—the national address you won't want to miss! State of the Union…of Concerned Scientists—Telephone Briefing
Date: Today, January 31, Time: 7:00 – 8:00 p.m. EST
President Trump's State of the Union address had one false statement every 4.5 minutes.
This is because he was speaking so slowly.
More information about the lies here.
The official Democratic response from Joe Kennedy.
Bernie does his thing.
The comedians explain. NSFW or around small children.
Our legislators respond:
Congresswoman Brownley Reacts to President Trump's First State of the Union
Washington, D.C. – Congresswoman Julia Brownley (D-Westlake Village) issued the following statement today after President Donald Trump's first State of the Union address:
"I was so honored tonight that Sergeant Major (Ret.) John Canley of Oxnard joined me as my guest at the State of the Union. Just yesterday, a bill I authored was signed into law, making him eligible to receive the prestigious Medal of Honor for his courageous and life-saving actions during the Vietnam War's Tet Offensive – which began 50 years ago today.
"Tonight, we looked back on President Trump's first year in office, and sadly, it has been a string of broken promises to America's working families.
"He promised that he would invest $1 trillion to rebuild and modernize our aging infrastructure. One year later, he made clear tonight that he has no real plan. What we do know is that he wants to privatize public infrastructure, which will make projects more expensive for Ventura County taxpayers and cost working families through tolls and fees, while enriching President Trump's developer buddies.
"The President pledged to improve veterans' access to healthcare. One year later, while he bragged about how many people he has fired, he has yet to nominate individuals to serve in VA's most important leadership roles, including Undersecretary for Health and Undersecretary for Benefits, and there are nearly 50,000 open positions at VA hospitals nationwide that need to be filled.
"Finally, the President promised to 'work something out' for DREAMers here in Ventura County and across the country. One year later, he has manufactured a crisis with his arbitrary March deadline and is using DREAMers as pawns in his extreme agenda that tramples over the very foundation of our nation's history.
"Tonight, President Trump again spoke about bipartisanship and working together, but his actions have demonstrated the opposite. His continued broken promises add up to an extreme agenda that has transferred trillions from working families to the richest 1%, ripped away healthcare from millions of struggling families, rolled back decades of protections for clean air and water, and left young people — striving to build a better life for their families — dangling as part of a cruel and inhumane negotiating tactic straight out of 'Art of the Deal.'
"That being said, I am not deterred. I am going to keep fighting for what working families in Ventura County really need – a strong economy, trusted law enforcement, a coherent national security agenda, and an unwavering belief in the values our nation was founded on."

Dear Friend,

I just returned from attending the President's annual State of the Union Address, and I wanted to share with you some of my thoughts about tonight's speech.

The State of the Union is an opportunity for the President to address our nation and present his vision and legislative agenda to Congress. It is a chance to lead and to bring our nation together. And it was a chance that he missed when his speech offered the country only rhetoric and failed to outline any new or substantive policy proposals.

The President's speech largely took credit for the strength of our economy, but what he failed to include was the rising job creation and wage growth handed to him by his predecessor. A president who inherited an economy in a deep recession and on the edge of collapse.

On the Central Coast, we are facing the decommissioning of the Diablo Canyon Power Plant, which will undoubtedly have an impact as nearly 1,500 workers face the uncertainty of finding new employment. That is why I am working towards solutions that offer job retraining programs as well as preparing to introduce legislation that incentivizes renewable energy production on the Central Coast by offering business tax credits to bring more jobs to our area.

Instead of implementing policies to build on that job growth for middle class Americans, the President has instead prioritized a $1.5 trillion tax cut for multinational corporations and the wealthiest one percent of Americans which would significantly increase our budget deficit.

I agree, our tax code needs to be simplified and made fairer. However, despite repeated promises, Americans will not be filing their returns on a post card this tax season.

This tax plan also took healthcare away from over 3 million Americans, by repealing the individual mandate provision of the Affordable Care Act. We need to focus on fixing and improving our healthcare system to make it more accessible and affordable for all, not roll back the important gains we have made.

With dozens of Dreamers in the audience, the President failed to offer them a clear path forward after he abruptly ended the DACA program and started the six-month clock on their legal status in this country. I'm proud to cosponsor the Dream Act and the USA Freedom Act, to permanently protect these hardworking young people, who contribute to their communities and our economy everyday as business owners, teachers, doctors, and first responders.

I was proud to join some of those Dreamers ahead of tonight's speech, and to thank them for standing up for the 700,000 Dreamers across the country that want the opportunity to continue to pursue the American dream. As an immigrant who has served our nation both in our armed forces and now in Congress, I stand proudly with those Dreamers tonight.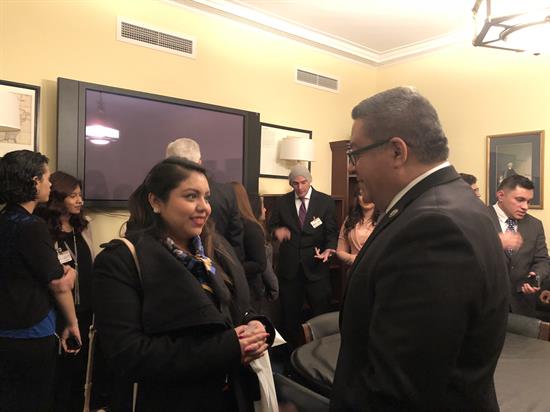 (Rep. Carbajal with Adriana, a Dreamer from the Central Coast attending the SOTU address)
There are multiple bipartisan proposals currently introduced in Congress that could pass with easy majorities in both the House and Senate, yet Republican leadership has callously failed to bring these bills to the floor for a vote. Instead, the President's immigration strategy referenced tonight holds citizenship for Dreamers' as a bargaining chip, in exchange for drastic changes to family-based immigration and a costly, inefficient border wall.

Both parties agree that our nation's infrastructure is in desperate need of repair. The Trump Administration says it wants better infrastructure, but doesn't want to invest in those improvements.

The President reiterated his plan that dramatically underfunds federal infrastructure investment, expecting private investors and local governments to foot the bill. Local funding already accounts for over 75% of our infrastructure investment and it is unrealistic to expect the majority of investments in to come from the state and local level. As a former Santa Barbara County Supervisor, I worked to fund these projects and know how important functional roads, bridges, water infrastructure, and rail transit is on the Central Coast. Investment in our infrastructure means investing in job creation in our communities, and I know that Congress can advance a substantive funding plan if we roll up our sleeves and push partisanship aside.

Our nation is stronger when we work together. I entered Congress after an incredibly divisive election with a promise to work hard to find common ground with my colleagues across the aisle. I am proud of the work I have done to build bipartisan consensus on issues from lowering the cost of healthcare to supporting our veterans and protecting Dreamers.

At the end of the day, I still firmly believe that there is more that unites us as Americans than divides us.

Sincerely,
Congressman Salud Carbajal
Washington—Senator Dianne Feinstein (D-Calif.) today released the following statement on President Trump's State of the Union speech:
"Last February, during President Trump's first address to the nation, we heard a lot of talk that wasn't followed up by action.
"He condemned hate speech, but later said white supremacists are 'very fine people.' He preached bipartisanship, but then supported bills to gut Medicaid and end the Affordable Care Act with zero Democratic input. He advocated for middle class tax relief, but instead supported a bill that raised taxes on working families.
"Tonight we heard more promises.
"We heard of his desire to take action on immigration – but the president himself rejected a bipartisan solution that addressed all four 'pillars' he said were essential. Instead, his latest proposal holds DACA recipients hostage for his senseless border wall, policies that will tear families apart and the elimination of protections for immigrant children.
"We heard about investments in infrastructure – but the president's own budget would slash funding for vital transit and infrastructure programs that communities across the country rely on.
"We heard promises of American leadership – but the president repeatedly isolates us from our allies and partners. He withdrew us from the Paris climate agreement, he relentlessly undermines the Iran nuclear deal and just tonight he promised to keep Guantanamo prison open.
"We need more than talk. We need a president who will bring the country together rather than foster further division. We need a president who understands and engages in important issues rather than spending hours on Twitter.
"There are responsible ways to address immigration, job creation, foreign relations, infrastructure, education and any number of other important issues. But we need a president who puts American families first. So far President Trump's actions haven't synced up with his teleprompter."
Senator Kamala Harris on State of the Union Speech
WASHINGTON, D.C. – U.S. Senator Kamala D. Harris released the following statement tonight in response to President Donald Trump's remarks at the State of the Union:
"The American people are strong and resilient, but millions of them have deep concerns about the state of our union and the President's speech did not reflect their reality.
"A year into this divisive presidency, special interests and the top 1% are being put at the front of the line while the vast majority of Americans are being left behind. Last year's job creation was the lowest in 7 years. For the first time since the Affordable Care Act took effect, the rate of Americans without health insurance has gone up. The stock market may be doing well, but that's good for Wall Street not millions of hardworking Americans whose paychecks haven't grown.
"And while I am always willing to work with my colleagues across the aisle, the President's call for bipartisanship and unity rings hollow. You cannot reject bipartisan plans to improve health care and protect Dreamers or sow hate and division—and then turn around the next day and say you want to work together.
"If the President wants to protect Dreamers, invest in infrastructure, and create good-paying jobs, we can and should do that immediately. But to make real progress on the challenges we face, we need more than a speech. We need this President to work in good faith on behalf of all Americans."